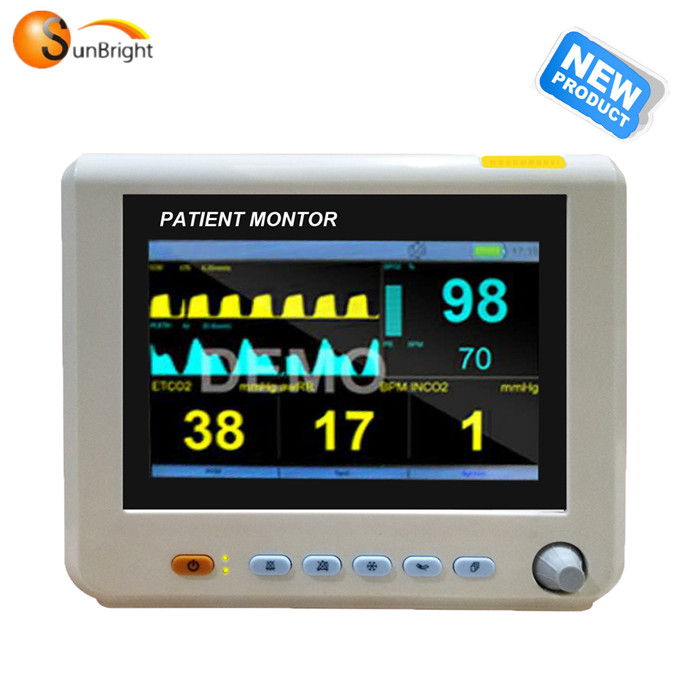 Sun-300S multi-parameter monitor can be used for monitoring of parameters of SPO2, NIBP, PR. It integrates parameter measuring module, display and recorder in one device to form a compact and portable device. At the same time, its built-in replaceable battery provides convenience for patient moving.

7 inch high-resolution color screen

•Multi-language, English, French, Germany, Turkish, Portuguese, Spanish and Chinese

•Exquisite design suitable to move operation

•Various interface: standard, NIBP list, big font screen

•Indication of incorrect manipulation and malfunction analysis

•Patient info input management function

•Built-in rechargeable lithium battery, 5 hours working capacity.
Standard configuration

SPO2,PR,NIBP

Parameters:

NIBP
Modes: Manual/Auto/Comtinuous

Unit: mmHg, kPa

Measure range:

Adult SYS:40-280mmHg

DIA: 10-225mmHg

MEAN: 20-240mmHg

Pediatric SYS:40-220mmHg

DIA: 10-160mmHg

MEAN: 20-170mmHg

Neonatal: SYS:40-135mmHg

DIA: 10-100mmHg

MEAN: 20-110mmHg

Resolution:1mmHg

Accurancy: ±5mm Hgport upgrade via network

SPO2

Measurement range:0-100%

Resolution:1%

Accuracy:2%(70-100%)

Auto measure time:Adjustable

Pulse Rate Range:20-254bpm

Resolution:1bpm

Accuracy: ±3bpm

Main unit

Spo2 probe

NIBP Tube

Adult cuff

Power cable

Battery

User manual