Sun-50P Fingertip Pulse Oximeter blood oxygen SPO2 Monitor oxymeter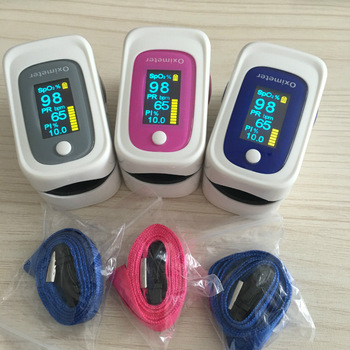 Two color OLED display, 6 display modes;
Parameters: SPO2, PR ,PI, ODI
Automatically standby or sleep.
Sleep monitoring and analysis function
Data record and data analysis function
Features:

Two color OLED display, 6 display modes;
Parameters: SPO2, PR ,PI, ODI
Low-power consumption,continuously four direction adjustable;
Low voltage indicator;
Alarm voice adjustable;
Up to 8 hours Data Record
Data Review
Automatically standby or sleep.
Sleep monitoring and analysis function
Specifications:

- Display: OLED display
- SpO2
Measurement range: 70~100%
Resolution: ±1%
Accuracy: ±2% (70%~99%), unspecified (<70%)
- Pulse rate
Measurement range: 30~250 bpm
Accuracy: ±1bpm
- Perfusion Index ( PI)
Measurement range: 0~30%
Accuracy: ±1% (0%~20%), unspecified (>20%)
- Data Record Hour: up to 8 hours
- Power:1.5V (AAA size) alkaline battery x 2
- Working current: ≤30mA
- Automatic power-of: Automatically power off when no signal in the oximeter for more than 16 seconds
- Environmental Sepecification
Operating Temperature:5-40 degrees ;
Storage/Transportation Temperature:-10 to 40 degrees Celcius;
Ambient Humidity:15-80% on operation;
10%-80% in storage
- Declaration:EMC of this product complies with IEC60601-1-2 standard
Operation Instructions:
1. Install two AAA batteries into battery cassette before covering its cover.
2. Plug one finger into rubber hole of the Oximeter (it is best to plug the finger thoroughly) before releasing the clamp with the nail upwards.
3. Press button on the front panel;
4. Donot tremble your finger when the Oximeter is working. Your body is not recommended on moving status.
5. Press the button on the front panel, if we want change display direction;
6. Read relevant datum from display screen.
7. If there is no signal input, oximeter can shut off automatically;
8. Please replace new batteries when OLED indicates the batteries are in low power.
Standard Configuration:

1. Pulse oximeter

2. Lanyard
3. Manual
4. English User Manual
Application:

This Fingertip Pulse Oximeter is a kind of innovated medical device with non-
invasive and continuous features for artery SPO2 and PR detection. Being portable,
it is able to measure SPO2 and PR values quickly and precisely.
Operation Scope:

The fingertip Oximeter can be used to measure human haemoglobin saturation and
heart rate through finger. The product applies to using in family, hospital (including
clinical use in internist/surgery, anaesthesia, paediatrics, intensive care, etc.), oxygen
club, social medical organizations, physical care in sports (It can be used before or
after sports. Operation in sport procedure is not recommended). It is also applicable
to enthusiasts on mountaineering, patients (convalescents at home or those need
first aid treatment), elders over 60, those work more than 12 hours, sporters and
those work in the hermetic circumstance, etc. The product is not suitable to monitor
patient continuously.