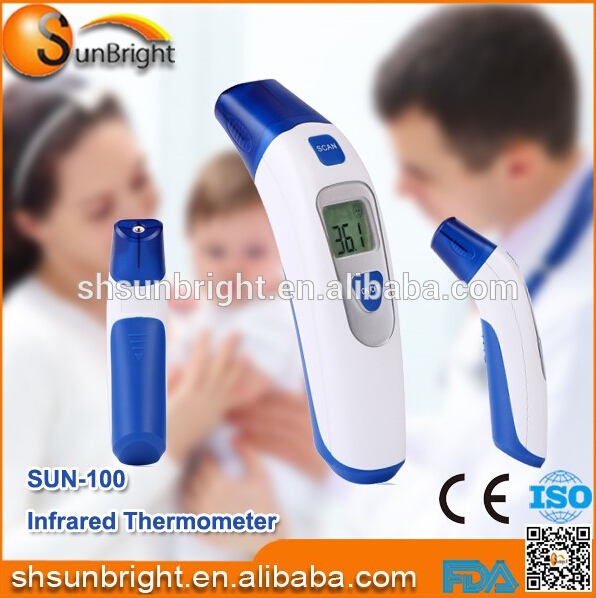 SUN-100
Introduction:
With the unique technology, the Dual mode infrared thermometer, Sun-100 of Shanghai Sunbright
can give the result with Dual modes, stable measurement and without the interference
from ambient temperature. The product will self-test every time it starts up to make sure the normal operation and accuracy.
The Dual modes infrared thermometer Sun-100 can be used to read the body temperature by measure the ear and forehead temperature,
which is suitable for adult and children(ear test
mode only for the child above 3 months).
The advantages of Dual modes infrared thermometer Sun-100:
-Multiple uses (measurement of forehead temperature, ear and object temperature)
Convenient for use
Special ergonomic design to facilitate operation.
No inconvenience would be caused to your daily life. It's available for measurement when
your children's sleeping.
It provides comfortable user experience compared with anus thermometer for
children, rapid reading and simple operation compared with mouth thermometer.
-Memory recall
A maximum of 10 previous readings is available to help you track the trend of your
body temperature.
-Safe and hygienic
Compared to mercury thermometer, there is no danger of breaking the glass or
swallowing mercury.
It is totally safe for children to use.
-Fever warning
When the reading exceeds 32.0℃/89.6℉, this product shall warn the user that
he/she may have a fever by 7 rapid and short rings with LCD flicker.
-Extensive clinical data from hospital
The cooperation with designated hospitals is subjected to precise clinical
verification, with the support of extensive clinical data and professional medical
experts.
Technical specifications:
1) Measuring range: 32.0-43℃/89.6-109.4

℉

2) Accuracy: ±0.2℃
3) Min Scale: 0.1℃/℉
4) Auto shut-off in one min after nonuse
5) Power consumption: 0.6MW(working)
6) Memory: 10 recordings
7) Measuring time: 1 second
8) Beeper function
9) Safe and Hygienic
10) Battery: 1.5V AAA×2, Alkaline batteries
11) Battery life: Approx 4000 takes
12) Weight: 74g (include batteries)
13) Display: easy-to-read, Three-digit LCD
14) Require new disposable probe cover for each use.
Item size (cm):

Color / Assortment:

white/blue, white/pink

Material Composition:

ABS

Individual Packaging

gift box with a bag inside

Inner Box (pcs)

No

Export Carton(pcs)

40

CBM of ctn

0.037

Carton dimension (cm)

46x39x20

G.W. (Kgs)

4.4

N.W. (Kgs)

3.2